POPCORN GAMES
Regular price
Sale price
$6.00 USD
Unit price
per
Sale
Sold out
The perfect sleeves to protect your photocards + more!

Available Sizes:
56mm x 87mm (Purple):

Perfect inner sleeve for most album photocards.

57.5mm x 89mm (Orange):

Tight outer sleeve for purple sleeves.

Good inner sleeve for most album pcs if you prefer a slightly bigger size.
Suitable inner sleeve for some TWICE POBS and other photocards measuring 57.5mm x 89mm or smaller.

59mm x 92mm (Indigo):

Perfect outer sleeve for purple sleeves.

Tight outer sleeve for orange sleeves.

Suitable inner sleeve for most TWICE POBS.

63.5mm x 88mm (Green):

Perfect inner sleeve for Monsta X photocards.

70mm x 100mm (Yellow Green):

Suitable for BTS & TXT Mini Tour photocards and other photocards measuring 70mm x 100mm.

80mm x 120mm (Brown):

Suitable for BTS Proof Compact postcards and other small postcards measuring 80mm x 120mm.
Specifications:
Hard Card Sleeves
0.1 MM Thick
50 sleeves per pack
100% Clear Polypropylene
Archival Safe
Acid-Free
No PVC
Dimensions refer to the photocard/card sizes that go inside the sleeve, not the sleeve itself.
Share
View full details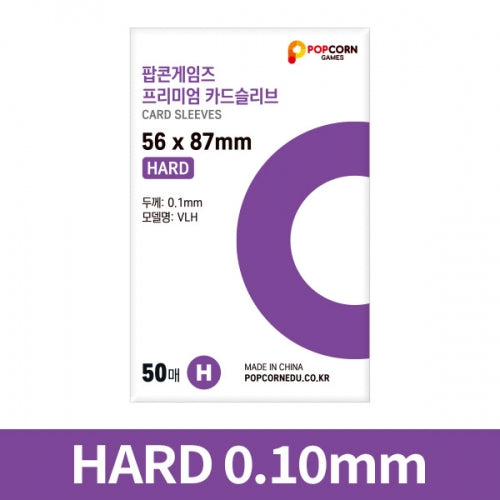 POPCORN GAMES | Premium Card Sleeves [Hard] (50 sleeves/pack)
Love These Sleeves
I finally gotten around to sleeve my collection, and heard great things about popcorn sleeves so I thought I should give them a try! The sleeves fit great on my photocards and they are hard sleeves so they add a bit of extra protecting for my cards. Though on the off chance there would be 1-3 sleeves that are damaged inside the packaging but otherwise these are great sleeves I would buy them again.
It's Fit A Photocards Perfectly!
Thanks, I can put double sleeves for my twice photocards to not get any damaged! I recommend the sleeves.
Best sleeves
Great sleeves. Fit snuggly and very clear. Highly recommend and great service from Pluedo.
Great quality
I used the "purple" as an inner sleeve and used the "indigo" for the outer sleeve for my photocards. They're great quality, so I know my PCs will be secured in them.
Frequently Asked Questions